Science at Anston Brook
National Curriculum
The National Curriculum states that a high-quality science education provides the foundations for understanding the world through the specific disciplines of biology, chemistry and physics. Science has changed our lives and is vital to the world's future prosperity, and all pupils should be taught essential aspects of the knowledge, methods, processes and uses of science. Through building up a body of key foundational knowledge and concepts, pupils should be encouraged to recognise the power of rational explanation and develop a sense of excitement and curiosity about natural phenomena. They should be encouraged to understand how science can be used to explain what is occurring, predict how things will behave, and analyse causes.
Intent in Science
For children to have an awareness of the long-term learning goals in Science, understanding the 'big picture' in their learning.
To build knowledge, skills and vocabulary over time.
To be prepared for life, have the cultural capital to understand their place in the world and have ambitions to make an impact upon it now and in the future.
To be ambitious in learning, to take risks and learn from mistakes, rather than fear them and adopt a healthy growth mind-set in their approach to learning.
To be enthused and engaged in all aspects of learning, discovering new talents and interests of the journey.
To constantly develop their reading and literacy skills in all areas of the curriculum.
Implementation of Science
Whatever we teach in science, we always start with the big picture, asking and answering the questions- Why is this important? How does it affect me? How does it affect the world around me? What possibilities and opportunities it may offer me? How does this link to learning I will do in the future?

Our science curriculum road map shows all learners in school what they have already learned, what they will learn next and in the future. Our science road map details a balance between knowledge in chemistry, biology and physics and the scientific skills required of learners throughout school.
In every unit of learning in science, teachers focus on the real-world applications of the science learning children are engaged with. For example, whilst studying rocks and soil in year 3, our children will look at how the composition of soil affects agriculture and how the study of rocks can teach us about the history of our Solar System and potentially answering the question'Is there Life of Mars?'
Our Aspiration Beehive is a huge part of learning in every subject at Anston Brook Primary School. In Science we make sure that whatever we are working on, we attach one of the Rs so learners can focus on improving themselves as learners as well as scientists. When carrying out inquires to prove or disprove a theory learners need to be resourceful.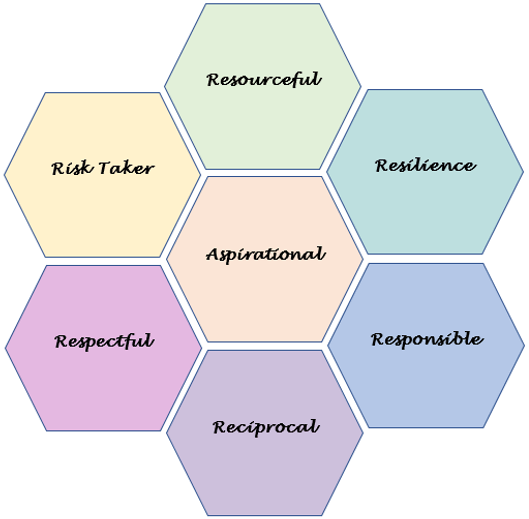 Our weekly Science Club has attracted budding young scientists across school. Science Club provides something beyond the curriculum. It encourages our members to behave as scientists and to become excited and motivated by the wonderful and endless journey in science.
Having strong reading and literacy skills is vital to mastering the study of science. Our science curriculum supports children's reading development by building their knowledge of vocabulary by studying the etymology of the words we encounter.
Examining evidence and information in science, our learners are encouraged to draw conclusions from the evidence, developing their inference skills to apply to reading. Efficiently retrieving the most important information you are presented with is as important in science as it is when reading.