History at Anston Brook
National Curriculum
The National Curriculum states that a high-quality history education will help pupils gain a coherent knowledge and understanding of Britain's past and that of the wider world. It should inspire pupils' curiosity to know more about the past. Teaching should equip pupils to ask perceptive questions, think critically, weigh evidence, sift arguments, and develop perspective and judgement. History helps pupils to understand the complexity of people's lives, the process of change, the diversity of societies and relationships between different groups, as well as their own identity and the challenges of their time.
The national curriculum for history aims to ensure that all pupils:
know and understand the history of these islands as a coherent, chronological narrative, from the earliest times to the present day: how people's lives have shaped this nation and how Britain has influenced and been influenced by the wider world
know and understand significant aspects of the history of the wider world: the nature of ancient civilisations; the expansion and dissolution of empires; characteristic features of past non-European societies; achievements and follies of mankind
gain and deploy a historically grounded understanding of abstract terms such as 'empire', 'civilisation', 'parliament' and 'peasantry'
understand historical concepts such as continuity and change, cause and consequence, similarity, difference and significance, and use them to make connections, draw contrasts, analyse trends, frame historically valid questions and create their own structured accounts, including written narratives and analyses
understand the methods of historical enquiry, including how evidence is used rigorously to make historical claims, and discern how and why contrasting arguments and interpretations of the past have been constructed
gain historical perspective by placing their growing knowledge into different contexts: understanding the connections between local, regional, national and international history; between cultural, economic, military, political, religious and social history; and between short- and long-term timescales
In History at Anston Brook Primary School, we have chosen to focus on the following areas.
Chronological Understanding
Knowledge & Understanding
Historical Enquiry
Organisation & Communication
Historical Interpretation
Intent in History
To have awareness of long-term learning goals in History, understanding the 'big picture' behind their learning.
To build on knowledge and skills over time, revisiting learning to commit knowledge and skills to long-term memory.
To be prepared for life, and to build the cultural capital needed to understand their place in the world and have the ambitions to make an impact upon it.
To be ambitious in learning and develop a healthy growth mind-set approach to learning
To identify and foster new talents and interests in learners.
To continue to develop reading and literacy skills in History .
Implementation of History
Road Map
Our History road map gives an overview of subject content to be taught from EYFS to Year 6, giving further details of study at Key Stage 3. The road map is designed to be accessible to staff, families and learners. All staff are required to refer to the road map and encourage learners to actively engage with it to evaluate their learning journey, see the end points and goals as well as seeing how the knowledge and skills they may acquire now may support their future development.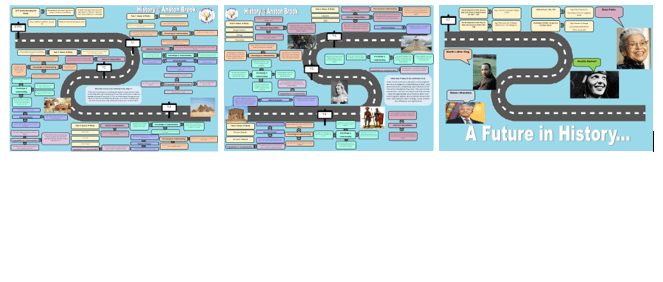 First Hand Experiences
Children will be given the opportunity during History topics to explore what it would have been like to live in that period, whether this is having a visitor into school or visiting somewhere. An example of this, is visiting the workhouse at Southwell when looking at the Victorians or visiting Eden Camp whilst studying WWII. Children will also undertake emersion lessons where they are fully absorbed in a particular strand of History. E.g. Life in a Victorian classroom.
Knowledge Organisers
Knowledge organisers are provided to pupils are the start of a topic. These organisers are then used throughout subsequent lessons for pupils to refer back too. They contain relevant information as well as a bank of vocabulary which will be used throughout lessons.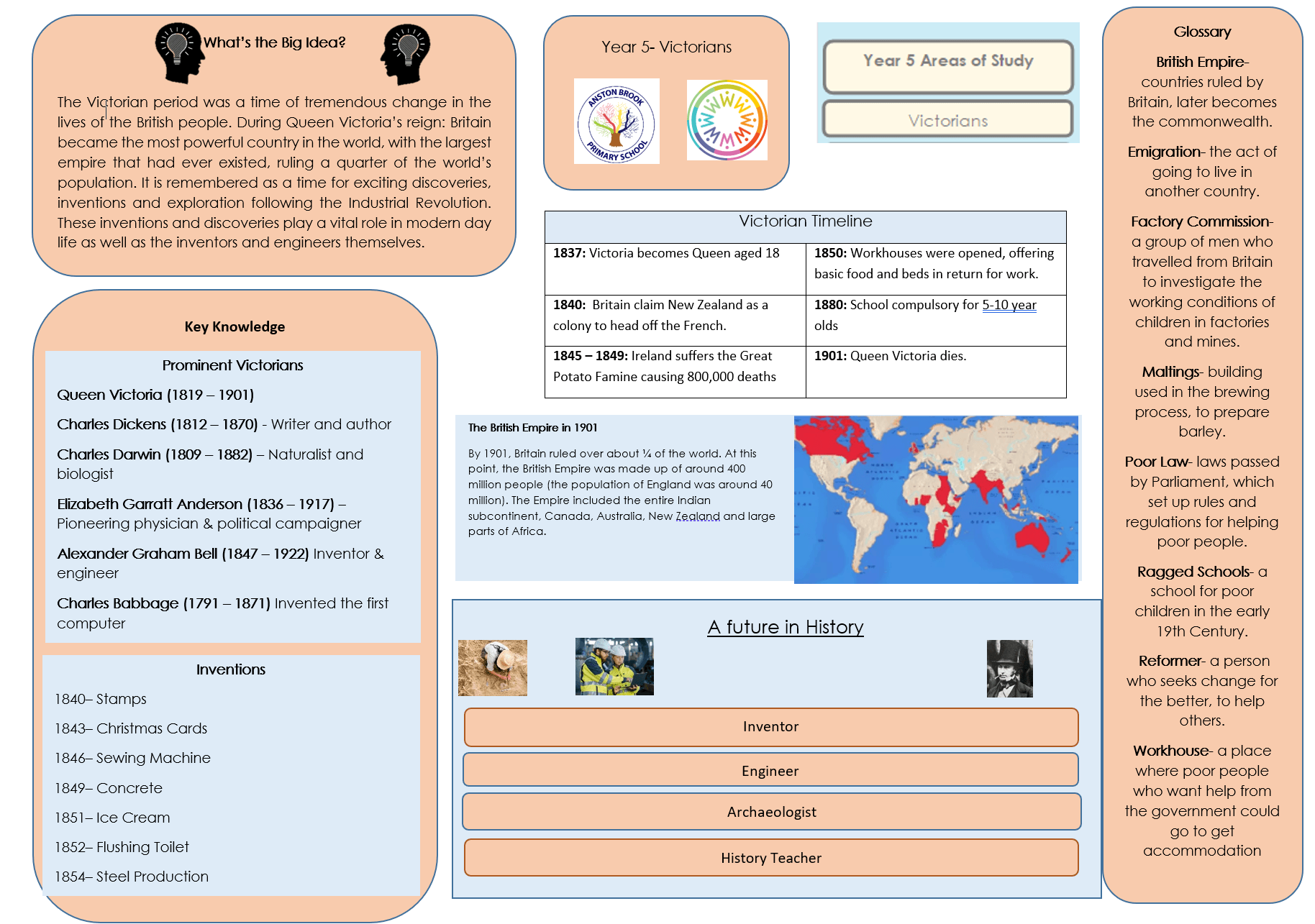 Aspiration Beehive
The 6 Rs, which sit at the heart of learning behaviours at Anston Brook are utilised in History with specific Rs being used in lessons. E.g. Respectful when learning about certain periods of History which might explore different views and opinions such as Black America. Exploring the views of the people then and our modern society and how things change.
Risk-taking, when bringing your own individual style to work, or considering different perspectives or opinions - removing the fear of 'getting it wrong'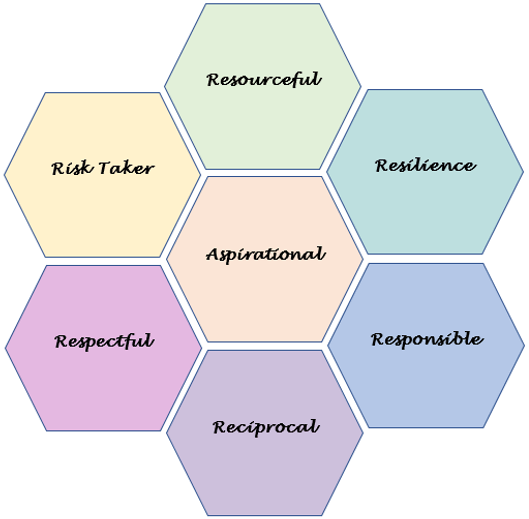 Reading in History
Teachers demonstrate how different messages and ideas can be inferred in historical pieces and explain how and why pictures and photographs try to convey certain messages and information.
Learners are taught to use subject specific vocabulary and formulate verbal ideas and reflections in standard English. Vocabulary generated during sessions is displayed and referred to in subsequent lessons. Pupils are then encouraged to use this vocabulary within their work.