Geography at Anston Brook
National Curriculum
The National Curriculum states that a high-quality geography education should inspire in pupils a curiosity and fascination about the world and its people that will remain with them for the rest of their lives. Teaching should equip pupils with knowledge about diverse places, people, resources and natural and human environments, together with a deep understanding of the Earth's key physical and human processes. As pupils progress, their growing knowledge about the world should help them to deepen their understanding of the interaction between physical and human processes, and of the formation and use of landscapes and environments. Geographical knowledge, understanding and skills provide the frameworks and approaches that explain how the Earth's features at different scales are shaped,
interconnected and change over time.
The national curriculum for geography aims to ensure that all pupils: develop contextual knowledge of the location of globally significant places – both terrestrial and marine – including their defining physical and human characteristics and how these provide a geographical context for understanding the actions of processes
understand the processes that give rise to key physical and human geographical features of the world, how these are interdependent and how they bring about spatial variation and change over time
are competent in the geographical skills needed to:-
- collect, analyse and communicate with a range of data gathered through experiences of fieldwork that deepen their understanding of geographical processes
- interpret a range of sources of geographical information, including maps, diagrams, globes, aerial photographs and Geographical Information Systems (GIS)
- communicate geographical information in a variety of ways, including through maps, numerical and quantitative skills and writing at length.
Intent in Geography
To have awareness of long-term learning goals in Geography, understanding the 'big picture' behind their learning.
To build on knowledge and skills over time, revisiting learning to commit knowledge and skills to long-term memory.
To be prepared for life, have the cultural capital to understand their place in the world and have ambitions to make an impact upon it now and in the future.
To be ambitious in learning, to take risks and learn from mistakes, rather than fear them and adopt a healthy growth mind-set in their approach to learning.
To identify and foster new talents and interests in learners.
To constantly develop reading and literacy skills in Geography.
Implementation of Geography
Our geography road map gives an overview of subject content to be taught from EYFS to Year 6, giving further details of study at Key Stage 3. The road map is designed to be accessible to staff, families and learners. All staff are required to refer to the road map and encourage learners to actively engage with it to evaluate their learning journey, see the end points and goals as well as seeing how the knowledge and skills they may acquire now may support their future development.
Our geography curriculum road map shows all learners in school what they have already learned, what they will learn next and in the future. Our geography road map focuses on the following areas:
Location knowledge
Human and Physical Geography
Place knowledge
Skills and Fieldwork
In every unit of learning in geography, teachers focus on the real-world applications of the geographical learning children are engaged with. We are extremely lucky at Anston Brook to have such wonderful grounds and amazing places to visit locally so we often take the opportunity to move our learning outside. This allows us to apply the skills we have learnt in an exciting and meaningful way.
Environmental Club
At Anston Brook we offer a variety of lunchtime and after school clubs. One of the clubs we currently offer is an environmental club. Our weekly environmental club has attracted budding geographers across school. It offers a wide variety of aspects of geography from looking after our school grounds, gardening and bird watching. It encourages our members to behave as geographers and to become excited and motivated by the wonderful and endless journey in geography.
Knowledge Organisers
Knowledge organisers are provided to pupils are the start of a topic. These organisers are then used throughout subsequent lessons for pupils to refer back too. They contain relevant information as well as a bank of vocabulary which will be used throughout lessons.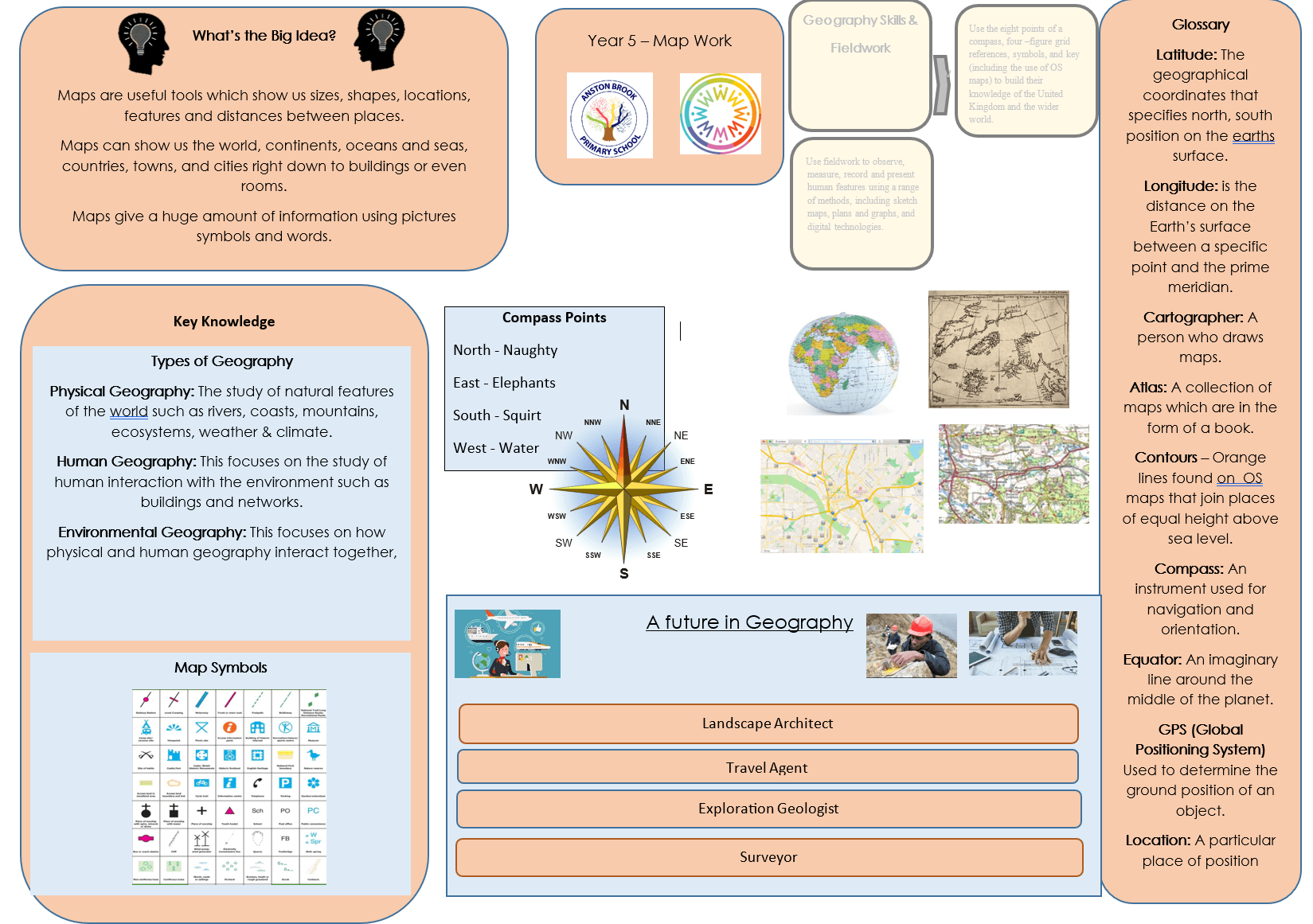 Reading in Geography
Teachers demonstrate how different messages and ideas can be inferred in geographical documents and explain how and why pictures and photographs try to convey certain messages and information. It is also important that we teach pupils how to read maps as well as different symbols.
Learners are taught to use subject specific vocabulary and formulate verbal ideas and reflections in standard English. Vocabulary generated during sessions is displayed and referred to in subsequent lessons. Pupils are then encouraged to use this vocabulary within their work.